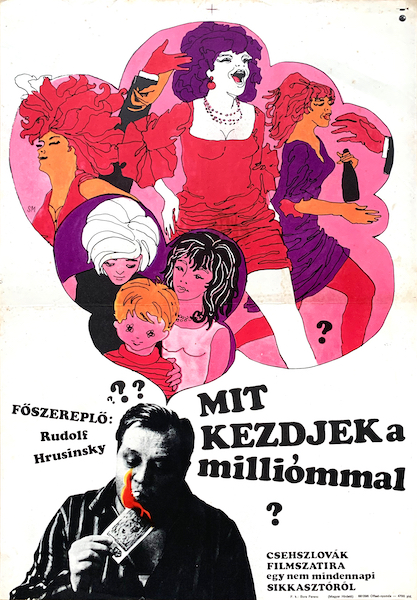 Stealing a million
Hungarian title:
Mit kezdjek a milliómmal?
Size:
A2 1/2 Sheet (cca. 59 x 42 cm)
Condition:
Fine, light fold marks and wear.
Material:
Paper, offset lithography.
Price: US$320
Description:
Stealing a million is a 1968 vintage Hungarian movie poster designed by Margit Sandor.
Jak se krade milión is a 1967 Czechoslovakian film.
The exemplary accountant Antonín Safránek (Rudolf Hrusínský) lives his orderly life as a citizen of a small town. His wife Eliska (Slávka Budínová) brings up their three children and desperately tries to get by on her husband's low salary every month. At the same time, she sadly watches the luxurious life of their neighbor and other people like him who have no qualms about improving their standard of living by cheating. One day, the infallible Safránek makes a mistake in the cash clearance and there are nine one-hundred Crown bills left in the safe. An unexpected company control carried out the next day passes without problems and the account is closed. The temptation is too strong. The insufficient control enables Safránek to gradually steal one million Crowns.
Director: Jaroslav Balík
Writers: Jan Otcenásek (story), Jan Otcenásek (screenplay)
Stars: Rudolf Hrusínský, Slávka Budínová, Libuse Svormová
(source: imdb.com)