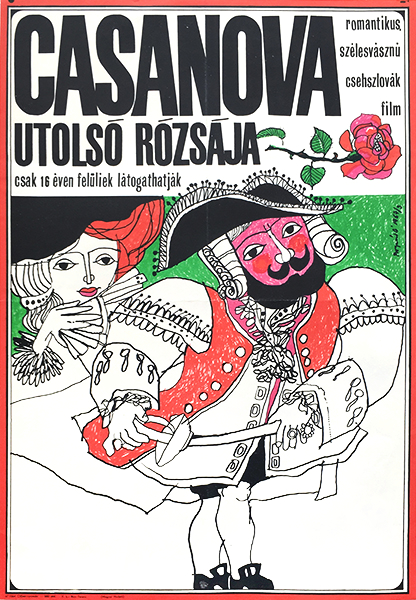 Last Rose from Casanova
Hungarian title:
Casanova utolsó rozsája
Size:
A2 1/2 Sheet (cca. 59 x 42 cm)
Condition:
Fine, light fold marks and wear.
Material:
Paper, offset lithography.
Price: US$240
Description:
Last Rose from Casanova is a 1967 vintage Hungarian movie poster designed by Arpad Bognar and released in 1968.
Poslední ruze od Casanovy is a 1966 Czechoslovakian film.
The legendary seducer of women Giacomo Casanova (Felix Le Breux) is spending the final years of his life at Count Wallenstein's Dux castle, where he has been given the post of the librarian. He is somewhat peevish and the writing of his memoirs and playing cards with the Count (Bohus Záhorský) are the only things that bring him comfort. One day the Count receives a visit from his nephew Francis Adam (Vladimír Brabec) with his attractive wife Valerie (Milena Dvorská). Valerie is disappointed with the legendary Casanova. She sees an old man wearing an old-fashioned outfit and finds him laughable; she also finds that his views of love are outdated. Casanova claims that woman's love can be won by refined gallantry and Valerie favors pure emotion. She makes a secret wager with her husband that she will charm Casanova. Casanova makes the same bet with the Count.
Director: Václav Krska
Writers: Frantisek Daniel (screenplay), Frantisek A. Dvorák
Stars: Felix Le Breux, Milena Dvorská, Bohus Záhorský
(source: imdb.com)