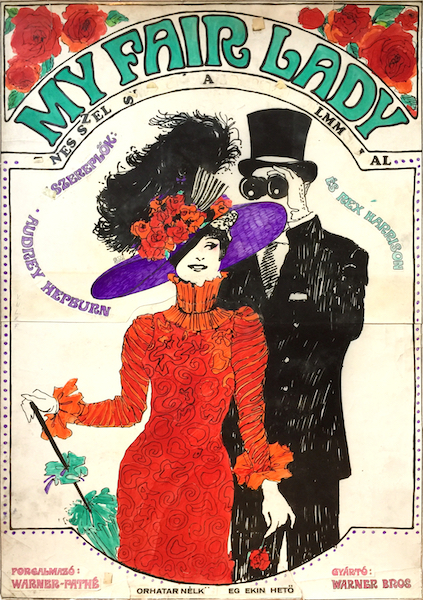 My Fair Lady
Hungarian title:
My Fair Lady
Size:
A1 1 Sheet (cca. 84 x 59 cm)
Condition:
Very good, light wear, some of the lettering is missing.
Material:
Paper, collage, paint.
Price: US$12000
Description:
My Fair Lady is a 1968 vintage Hungarian movie poster original artwork or maquette designed by Margit Sandor. Final movie poster artwork for the first release of the movie in Hungary. Beautiful drawn composition for the famous musical film.
My Fair Lady is a 1964 American musical film adaptation of the Lerner and Loewe eponymous stage musical based on the 1938 film adaptation of the original 1913 stage play Pygmalion by George Bernard Shaw. With a screenplay by Alan Jay Lerner and directed by George Cukor, the film depicts a poor Cockney flower seller Eliza Doolittle who overhears an arrogant phonetics professor, Henry Higgins, as he casually wagers that he could teach her to speak "proper" English, thereby making her presentable in the high society of Edwardian London. It stars Audrey Hepburn and Rex Harrison.
The film won eight Academy Awards, including Best Picture, Best Actor, and Best Director. (source: wikipedia.org)