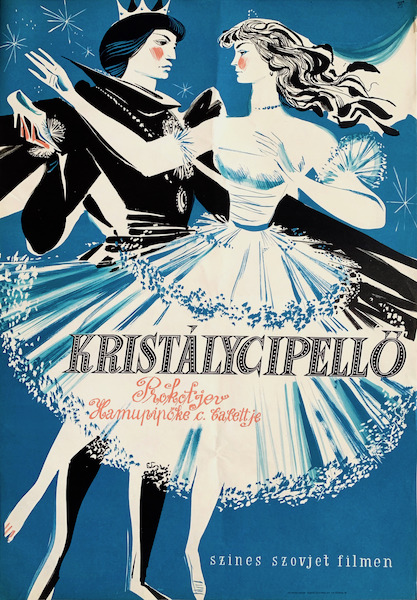 Cinderella
Hungarian title:
Kristálycipellő
Size:
A1 1 Sheet (cca. 84 x 59 cm)
Condition:
Fine, light fold marks and wear, small tears.
Material:
Paper, offset lithography.
Price: US$1200
Description:
Cinderella is a 1962 vintage Hungarian movie poster designed by Janos Kass.
Soviet Russian film version of Cinderella Op. 87, is a ballet composed by Sergei Prokofiev to a scenario by Nikolai Volkov.
Cinderella (Russian: Золушка, Zolushka; French: Cendrillon) Op. 87, is a ballet composed by Sergei Prokofiev to a scenario by Nikolai Volkov. It is one of his most popular and melodious compositions, and has inspired a great many choreographers since its inception. The piece was composed between 1940 and 1944. Part way through writing it Prokofiev broke off to write his opera War and Peace. The premiere of Cinderella was conducted by Yuri Fayer on 21 November, 1945, at the Bolshoi Theatre, with choreography by Rostislav Zakharov and Galina Ulanova in the title role. Cinderella is notable for its jubilant music, lush scenery, and for the comic double-roles of the step-sisters (which can be performed in travesti), more mad than bad in this treatment. (source: wikipedia.org)