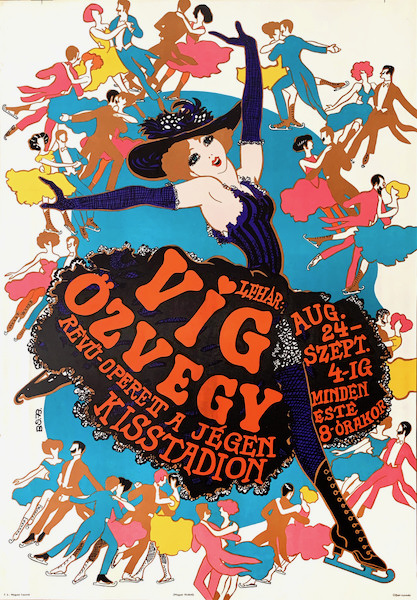 Merry Widow, The
Hungarian title:
Víg özvegy
Size:
A1 1 Sheet (cca. 84 x 59 cm)
Condition:
Fine, light creasing and wear.
Material:
Paper, offset lithography.
Price: US$600
Description:
The Merry Widow ice revue operetta is a 1972 vintage Hungarian poster designed by Sandor Benko based on the operetta by Lehar.
The Merry Widow (German: Die lustige Witwe) is an operetta by the Austro-Hungarian composer Franz Lehár. The librettists, Viktor Léon and Leo Stein, based the story – concerning a rich widow, and her countrymen's attempt to keep her money in the principality by finding her the right husband – on an 1861 comedy play, L'attaché d'ambassade (The Embassy Attaché) by Henri Meilhac.
The operetta has enjoyed extraordinary international success since its 1905 premiere in Vienna and continues to be frequently revived and recorded. Film and other adaptations have also been made. Well-known music from the score includes the "Vilja Song", "Da geh' ich zu Maxim" ("You'll Find Me at Maxim's"), and the "Merry Widow Waltz".
(source: wikipedia.org)