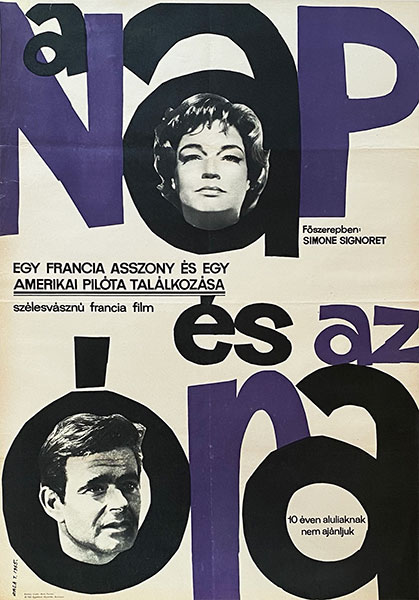 Day and the Hour, The
Hungarian title:
A nap és az óra
Size:
A1 1 Sheet (cca. 84 x 59 cm)
Condition:
Fine, light wear and fold marks, a few small tear.
Material:
Paper, intaglio.
Price: US$400
Description:
The Day and the Hour (original title: Le jour et l'heure) is a 1965 original Hungarian vintage movie poster designed by Tibor Zala for a French movie starring Simone Signoret.
The Day and the Hour (French: Le jour et l'heure) is a 1963 French war-time drama film directed by René Clément and starring Simone Signoret and Stuart Whitman. Set in occupied France in 1944 a French woman finds herself helping a downed American pilot as he searches for a way to leave the country. (source: wikipedia.org)