Zala Tibor
1920 - 2004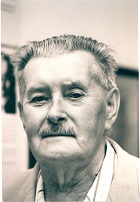 Zala, Tibor
Tibor Zala was a graphic designer, painter and teacher. He graduated at the end of the 1940s as a student of György Konecsni and Sándor Ék. One of his first designs was one of the posters for the emblematic poster exhibition in 1948.
In 1956 he designed a Pop Art poster for the Opera lipstick, a true early masterpiece (published in 1959). The design resembles Tom Wesselmann's paintings; it is a very compact, clear composition with extreme pink and blue colours. Zala designed some similarly daring and exciting compositions in the late 1950s. He also created detailed realistic painted compositions for movies, which also demonstrate his exceptional talent.
In the 1960s Zala designed many movie posters that showed his new, diverse, inventive style. He also made political posters; his poster of Lenin built up of raster dots was very successful. His compositions often show monumental, block-like shapes. The compositions are built on impressive contrasts or rhythm of the shapes and colours. He used paper cut-out, painting, drawing, photomontage as well and he often chose intensive colours.
Zala was also a very influential art teacher. From 1962 he taught at the School for Applied arts, between 1964 and 1980 he was the headmaster of the institution. .
Available posters by this artist