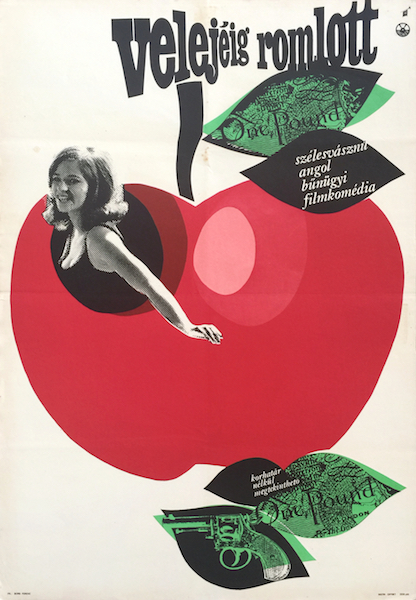 Rotten to the Core
Hungarian title:
Velejéig romlott
Size:
A1 1 Sheet (cca. 59 x 84 cm)
Condition:
Fine, fold marks, small stains and tears along the border.
Material:
Paper, offset lithography.
Price: US$200
Description:
Decorative poster for an English crime movie. The design is created with paper cut and photomontage. The poster is an original first release.
Rotten to the Core is a 1965 British comedy film directed by John Boulting. It includes a young Anton Rodgers as the leader of a group of criminals, who attempt to stage an elaborate heist towards the end of the film. Britain's famed comedy brothers John Boulting and Roy Boulting created this caper about a trio of crooks plotting to retrieve their ill-gotten booty. Upon finishing their sentence for pulling off a heist, they immediately go in search of their one-time leader, The Duke (Anton Rodgers). He was supposed to safeguard their share of the money, but the Duke's girlfriend Sara (Charlotte Rampling) informs them the Duke is dead, and the money is long gone. The gang discovers that she's lying, however, and that the Duke is masquerading as the head of a spa, the Hope Springs Nature Clinic, where he is planning a felony with some criminal cronies. Eric Sykes plays a policeman who attempts to go undercover without much success. (As one character puts it "You can see his flat feet from here"). (source: wikipedia.org)
Rogues Jelly Knight, Scapa Flood, and Lennie the Dip leave prison expecting boss The Duke to have their stash ready to share out. Instead, Duke's girl Sara gives them the news Duke is dead and the money gone on nursing care. They soon discover that Duke is actually running Hope Springs Nature Clinic with the help of most of the local villains. Very strange - and the nearby army camp and Sara's encouragement of Lieutenant Vine would seem to be no coincidence either. (source: imdb.com)