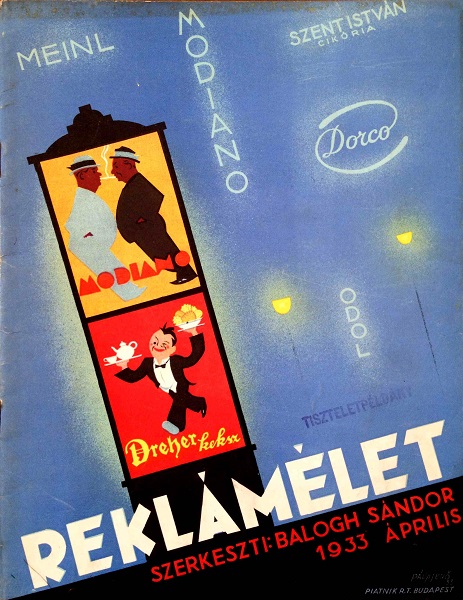 Advertising Life 1933 VI. 4.
Hungarian title:
Reklámélet 1933 VI. 4. szám
Size:
A4 (cca. 29 x 21 cm)
Condition:
Fine, light wear and staining.
Material:
Paper, stone lithography.
Price: US$1600
Description:
Advertising Life 1933 VI. 4.
The cover of the monthly magazine displays an advertiting pillar with Modiano and Dreher posters. The piece is the April issue of the magazine and was edited by Sándor Balogh. On the cover 'complimentory copy' is stamped. Both the back and the front cover display the streets of Budapest at dawn. The journal contains articles related to advertising. Two palmphlets are included in it, one for Meinl Coffee and one for Lampart enamel. The latter one was designed by István Irsai and both of them are tram poster sizes (cca. 24 x 17 cm).