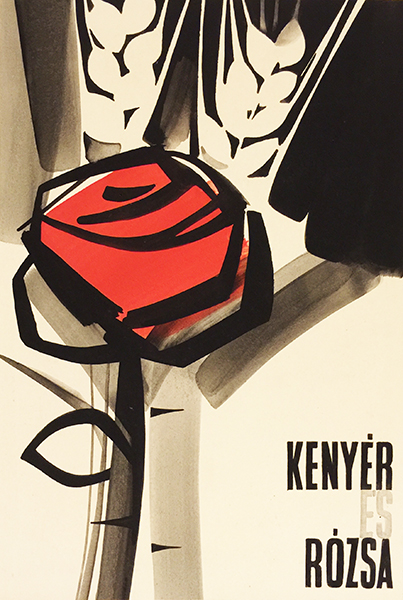 Bread and Roses
Hungarian title:
Kenyér és Rózsa
Size:
Tram poster (cca. 17 x 24 cm)
Material:
Paint on cardboard.
Price: US$800
Description:
Bread and Roses (original title: Khleb i Rozi) was a soviet drama from 1960, directed by Fyodor Filippov. It was featuring Gleb Glebov, Pavel Kadochnikov and Eduard Bredun. The story is about a group of workers from St. Petersbourg, who goes to the steppes of the Altai and find the first agricultural commune there during the hard years of civil war.
This painted artwork was created as a maquette of the poster for the Hungarian premiere of the film in 1961. The artist was Antal Gunda, a great graphic artist active mostly between the 1950s and the end of the 1970s. He designed a number of fine movie posters, but was also active in creating theatre, exhibition, commercial or propaganda designs. After that he had to employ the compulsory socialist realist manner during the early 1950s, he could refine his own decorative style during the 1960s. His movie posters of this time had an expressive character, obtained by the varied use of painting, elegant drawing, rough paper-cut, and other techniques.
Here Gunda created an elegant and demonstrative design. He depicted a stylized rose-motif in the centre and some wheatears behind. The composition is clear and bold, and is based on the strong contrast of black and white connected to each other by the bright redness of the flower. The inscription of the title appears at the right lower corner in a simple, straightforward typography. The gaze is attracted at the graphical elements by their expressiveness as the artist painted the lines and patches with intensive gestures. Gunda, as usual, could create a frankly smart piece.
source:
http://www.bfi.org.uk/