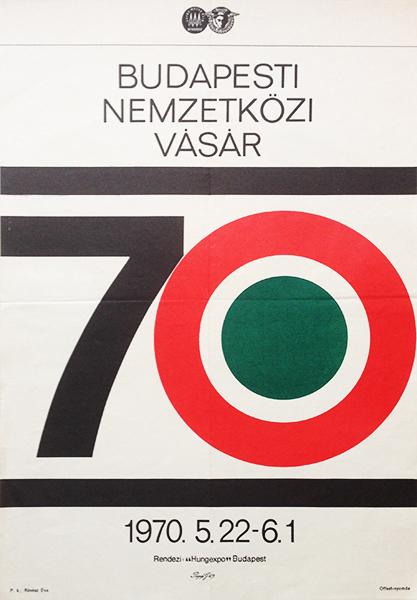 Budapest International Fair 1970
Hungarian title:
Budapesti Nemzetközi Vásár 1970
Size:
A3 (cca. 30 x 42 cm)
Condition:
Fine, fold marks, creases along the border.
Material:
Paper, offset lithography.
Price: US$400
Description:
Gábor Papp created his famous design based on typographical elements for the Budapest International Fair 1970 (Budapesti Nemzetkozi Vasar 1970). The numbers 7 and 0 are perfectly synchronized with a harmonic typography. The 0 forms a Hungarian national symbol, the cockade, showing the national colors.
Gabor Papp was one of the most famous graphic designers in Hungary, who was influenced by the Swiss typographic design /International Typographic Style in the 1960s. The International Typographic Style, also known as the Swiss Style, is a graphic design style developed in Switzerland in the 1950s that emphasizes cleanliness, readability and objectivity. Hallmarks of the style are asymmetric layouts, use of a grid, sans-serif typefaces like Akzidenz Grotesk, and flush left, ragged right text.(source: wikipedia.org)