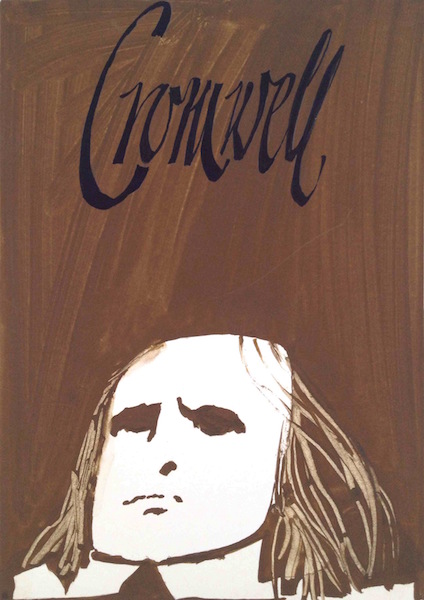 Cromwell
Hungarian title:
Cromwell
Size:
Tram poster (cca. 17 x 24 cm)
Material:
Paint on cardboard.
Price: US$320
Description:
"Cromwell is a British 1970 historical drama film, based on the life of Oliver Cromwell who led the Parliamentary forces during the English Civil War and, as Lord Protector, ruled Great Britain and Ireland in the 1650s. It features an ensemble cast, led by Richard Harris as Cromwell and Alec Guinness as King Charles I, with Robert Morley as Edward Montagu, 2nd Earl of Manchester and Timothy Dalton as Prince Rupert of the Rhine.

The film received 2 Oscar nominations during the 43rd Academy Awards held in 1971, winning 1 for Best Costume Design by Vittorio Nino Novarese, nevertheless losing another for Best Original Score, composed by Frank Cordell. It was also nominated for a British Academy of Film and Television Award (BAFTA) in Costume Design and a Golden Globe for Best Original Score. At the 7th Moscow International Film Festival in 1971 it won the award for Best Actor (Richard Harris), and was nominated for the Golden Prize as Best Picture (Ken Hughes)."
(source: en.Wikipedia.org)
This beautiful painted poster artwork was created for the movie by Antal Gunda, a fine graphic designer. The artist has another poster artwork for the movie in our collection.
This work is a simple and elegant piece in the expressive style of the artist. The face of the main character can be seen below in a decorative, strong contrast which makes his eyes be in shade. The hair of the figure is captured by using an interesting technique: the artist scratched back the lines after paint. There are only a few colours used for the picture: medium light brown dominates the background and the contrast of the main character's face is depicted with the help of white. The title appears above in black. The whole composition is clear and elegant, captured in the expressive portrayal of Gunda.