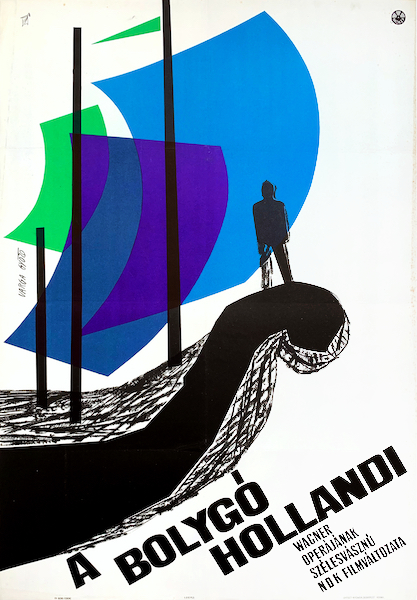 Flying Dutchman, The
Hungarian title:
A bolygó hollandi
Size:
A1 1 Sheet (cca. 59 x 84 cm)
Condition:
Fine, light fold marks and wear.
Material:
Paper, offset lithography.
Price: US$480
Description:
The Flying Dutchman - Wagner opera is a 1965 vintage Hungarian movie poster designed by Gyozo Varga and released in 1966.
Der fliegende Holländer is a 1964 East German opera film.
Director: Joachim Herz
Writers: Joachim Herz (screenplay), Harald Horn (screenplay)
Stars: Anna Prucnal, Gerda Hannemann, Fred Düren
(source: imdb.com)
The Flying Dutchman (German: Der fliegende Holländer), WWV 63, is a German-language opera, with libretto and music by Richard Wagner. The central theme is redemption through love. Wagner conducted the premiere at the Königliches Hoftheater in Dresden in 1843.
Wagner claimed in his 1870 autobiography Mein Leben that he had been inspired to write the opera following a stormy sea crossing he made from Riga to London in July and August 1839. However, in his 1843 Autobiographic Sketch, Wagner acknowledged he had taken the story from Heinrich Heine's retelling of the legend in his 1833 satirical novel The Memoirs of Mister von Schnabelewopski (Aus den Memoiren des Herrn von Schnabelewopski).
This work shows early attempts at operatic styles that would characterise his later music dramas. In Der fliegende Holländer Wagner uses a number of leitmotivs (literally, "leading motifs") associated with the characters and themes. The leitmotifs are all introduced in the overture, which begins with a well-known ocean or storm motif before moving into the Dutchman and Senta motifs.
Wagner originally wrote the work to be performed without intermission – an example of his efforts to break with tradition – and, while today's opera houses sometimes still follow this directive, it is also performed in a three-act version.
(source: wikipedia.org)