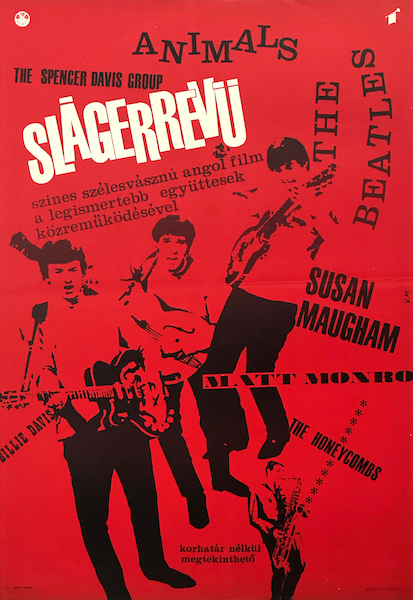 Go Go Mania
Hungarian title:
Slágerrevü
Size:
A2 1/2 Sheet (cca. 42 x 59 cm)
Condition:
Fine, light fold marks and wear.
Material:
Paper, offset lithography.
Price: US$240
Description:
Pop Gear (U.S. title: Go Go Mania) is a 1966 vintage Hungarian music movie poster designed by Magda Vorosmarty. The bands and performers featured on the poster are: The Beatles, Animals, The Spencer Davis Group, Susan Maugham, Matt Monro, The Honeycombs, Billie Davis.
Pop Gear (U.S. title: Go Go Mania) is a British music revue film, directed by Frederic Goode, which was released in 1965. It contains live concert footage of the Beatles, and lip-synched films of some of the British Invasion bands, including the Animals, Herman's Hermits, the Nashville Teens, Peter and Gordon, Matt Monro, Billy J. Kramer and the Dakotas, the Honeycombs, the Rockin' Berries, and the Spencer Davis Group. Each segment is introduced by Jimmy Savile, who at the time was the host of Top of the Pops on the BBC. The material by the Beatles was lifted from a newsreel short The Beatles Come to Town (1963). The film was released sometime between January and April 1965, the footage having been filmed in December 1964.
Songs and artists in order:
"She Loves You" - The Beatles
"Little Children" - Billy J. Kramer and the Dakotas
"Make Him Mine" - Susan Maughan
"Juliet" - The Four Pennies
"The House of the Rising Sun" - The Animals
"A Little Loving" - The Fourmost
"He's in Town" - The Rockin' Berries
"Have I the Right" - The Honeycombs
"Rinky Dink" - Sounds Incorporated
"A World Without Love" - Peter and Gordon
"Walk Away" - Matt Monro
"I'm Into Something Good" - Herman's Hermits
"Humpty Dumpty" - Tommy Quickly and the Remo Four
"Whatcha Gonna Do" - Billie Davis
"My Babe" - The Spencer Davis Group (featuring Steve Winwood)
"Tobacco Road" - The Nashville Teens
"What In The World's Come Over You" - The Rockin' Berries
"For Mama" - Matt Monro
"Black Girl" - The Four Pennies
"William Tell" - Sounds Incorporated
"Google Eye" - The Nashville Teens
"Eyes" - The Honeycombs
"Don't Let Me Be Misunderstood" - The Animals
"Pop Gear" - Matt Monro
"Twist And Shout" - The Beatles
(source: wikipedia.org)