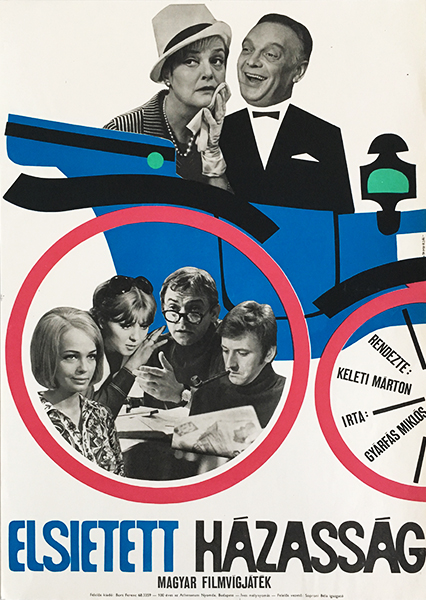 Hasty Marriage
Hungarian title:
Elsietett házasság
Size:
A2 1/2 Sheet (cca. 42 x 59 cm)
Condition:
Fine, light fold marks, small paper loss at the bottom right corner.
Material:
Paper, offset lithography.
Price: US$160
Description:
Hasty Marriage is a 1968 Hungarian comedy film directed by Márton Keleti, starring Klári Tolnay, Lajos Básti, Judit Halász, Teri Tordai and Dezső Garas very popular actors and actresses of the time.
The protagonists of a comic Romeo and Juliet story full of gags are two widowed pensioners. Nádor and Mrs. Komáromi meet in the cemetery while mourning their dead spouses and they fall in love. The two families lay a plot to stop the "hasty fool's'" happiness. The elders' independent life is at stake. For lack of an apartment the "young" weds move to a furnished room, which they can rent quite cheap with the condition that they walk eight boxer puppies every day. Imi, the little Nádor-grandson is their only help. He has been following the events with malicious delight from the first moment on.