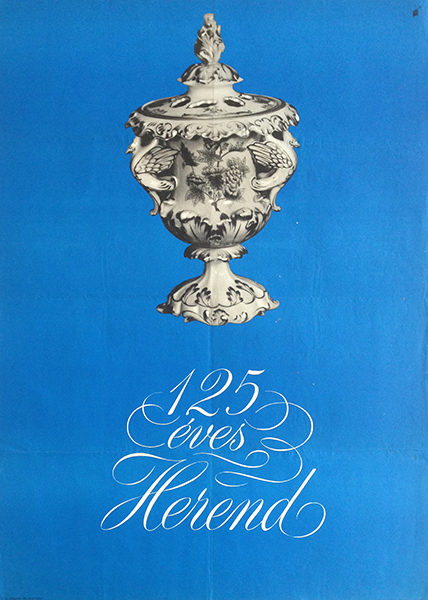 Herend Porcelain Factory is 125 years old
Hungarian title:
125 éves Herend
Size:
A1 1 Sheet (cca. 55 x 84 cm)
Condition:
Fine, horizontal and vertical fold marks, small absences.
Price: $120
Description:
The Herend Porcelain Manufactory is a Hungarian manufacturing company, specializing in luxury hand painted and gilded porcelain. The manufactory was founded in 1826, it is based in the town of Herend near the city of Veszprém. After the first foundation it went bankrupt, and a new owner took control of the factory in 1839, which is counted as the year of foundation. In the mid-19th century it was purveyor to the Habsburg Dynasty and aristocratic customers throughout Europe. Many of its classic patterns are still in production. (source: wikipedia.org)
The poster is very simple: in front of a blue background a a Herend porcelain is placed, and below it in calligraphic style the fact that Herend is 125 years old is written.