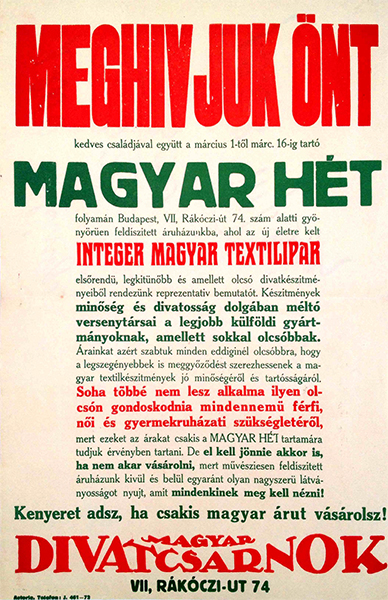 Invitation to the Hungarian Week at the Hungarian Fashion Hall
Hungarian title:
Meghívó a Magyar Divatcsarnokban rendezett Magyar Hétre
Size:
Pre-war 1/4 Sheet (cca. 31 x 48 cm)
Condition:
Fine, light fold marks and wear.
Material:
Paper, stone lithography.
Price: US$400
Description:
Invitation for the Hungarian Week which took place at the Hungarian Fashion Hall on Rákóczi road in Budapest between the 1st and 16th of March, 1946. The aim of the Hungarian Week was to present the products of the Integer Hungarian Textil Industry. The slogen on the bottom says: If you buy exclusively Hungarian products, you give bread to many!
The goal of the poster and the event advertised by it was to popularize Hungarian products (textile in particular) to motivate the audience to choose it instead of foregn goods in order to contribute to the economic rise of the country. According to the poster, on the event it was possible to purchase cheap but good quality clothing.
The design matches the theme: the colours of the poster are the colours of the Hungarian tricolor: red, white and green.