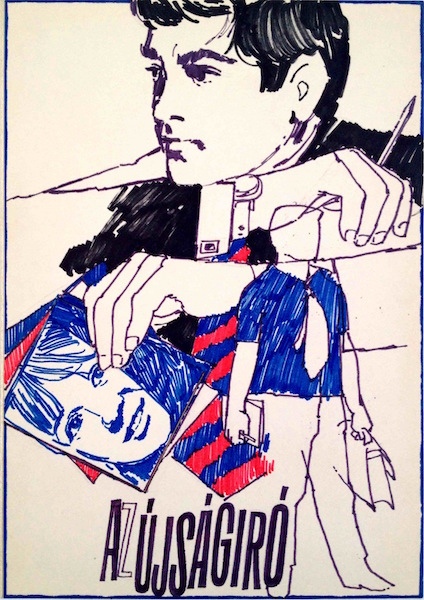 Journalist, The
Hungarian title:
Az újságíró
Size:
Tram poster (cca. 17 x 24 cm)
Material:
Paper, hand painting, drawing (paint, pencil).
Price: US$1200
Description:
The Journalist is an original vintage poster maquette for a Soviet fil from 1967 by Antal Gunda.
The Journalist is a 1967 Soviet film, a romance-drama. It was produced by one of the most reputable Russian directors Sergei Gerasimov who also wrote a screenplay. The film stars Galina Polskikh and Yuri N.Vasiliev and tells a story of love between a successful Moscow journalist and a girl in a remote city in the Urals. (source: en.wikipedia.org)
This impressive original poster artwork was created for the movie by a fine Hungarian graphic designer, Antal Gunda. The artist had a decorative drawing style of which this piece is an excellent example.
This artwork was drawn by felt pen which makes is a specific, decorative piece. The artist used only a few colours to draw: the contours are drawn (and the title is written) with purple; black, red and blue are used to paint surfaces, and the white parts are visible from the original paper. The composition is a concentrated montage of several figures, but the main character of the movie is highlighted the most, appearing above. The strong contrast of the picture also contributes to the beautiful design. The artwork was created in Gunda's elegant and expressive portrayal.