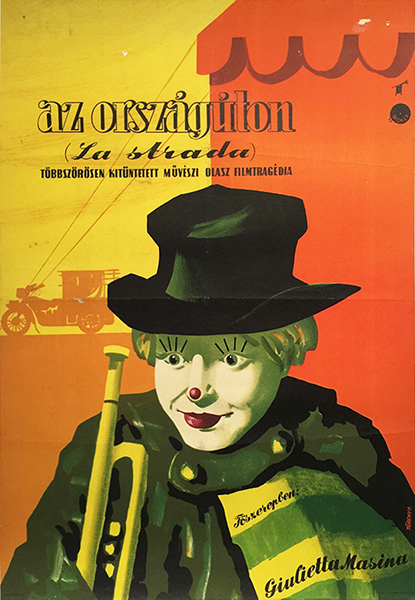 La Strada
Hungarian title:
Az országúton
Size:
A1 1 Sheet (cca. 59 x 84 cm)
Condition:
Fine, fold marks and four small holes, small tears along the borders, some abraison.
Material:
Paper, offset lithography.
Price: US$3200
Description:
La Strada is a 1958 vintage Hungarian movie poster designed by Ferenc Toreky. This is a frist release movie poster which is a very decorative painted composition for Fellini's award winning movie starring Anthony Quinn.
La Strada (The Road) is a 1954 Italian drama film directed by Federico Fellini from his own screenplay co-written with Tullio Pinelli and Ennio Flaiano. The film portrays a brutish strongman (Anthony Quinn) and the naïve young woman (Giulietta Masina) whom he buys from her mother and takes with him on the road; encounters with his rival the Fool (Richard Basehart) end with their destruction. Fellini has called La Strada "a complete catalogue of my entire mythological world, a dangerous representation of my identity that was undertaken with no precedent whatsoever." As a result, the film demanded more time, effort and suffering than any of his other films, before or since. The development process was long and tortuous; it was extremely difficult to secure financial backing; casting proved problematic; injuries, personnel changes and inclement weather disrupted the production schedule more than once; budget shortages constantly plagued the director and his production supervisor, forcing them to take extraordinary measures to keep going. Finally, just before shooting was completed, Fellini suffered a nervous breakdown that necessitated medical treatment in order to complete principal photography. Initial critical reaction was harsh, and the film's screening at the Venice Film Festival was the occasion of a bitter controversy that escalated into a public brawl between Fellini's supporters and detractors. Subsequently, however, La Strada has become "one of the most influential films ever made", according to the American Film Institute. It won the inaugural Academy Award for Best Foreign Language Film in 1956. It was placed fourth in the 1992 British Film Institute directors' list of cinema's top 10 films. (source: wikipedia.org)