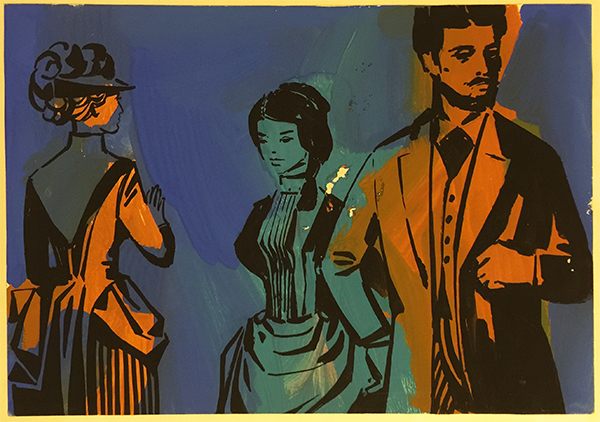 Man of Gold, The
Hungarian title:
Az aranyember
Size:
Tram poster (cca. 17 x 24 cm)
Material:
Paint on cardboard.
Price: US$800
Description:
The Man with the Golden Touch is a novel from 1872 written by the Hungarian novelist Mór Jókai (18 February 1825 – 5 May 1904). Outside Hungary he is also known as Maurus Jokai. His family had meant him to follow the law, his father's profession, but the drudgery of a lawyer's office was uncongenial to the ardently poetical youth. His first writings were soon recognized by all the leading critics and he was appointed the editor of a leading Hungarian literary journal in 1847.
He married the great tragic actress, Róza Benke Laborfalvi. On the outbreak of the revolution of 1848, the young editor enthusiastically adopted the national cause, and served it with both pen and sword. He supported the deposing of the Habsburg dynasty, but after the surrender at Világos (now Şiria, Romania) in August, 1849, he intended to commit suicide to avoid imprisonment, but finally he made a difficult journey on foot with his family through Russian lines to Pest. The next fourteen years this were perhaps the most glorious period of his existence. He devoted himself to the rehabilitation of the Hungarian language, composing no fewer than thirty great romances, besides innumerable volumes of tales, essays, criticism and faceti. On the re-establishment of the Hungarian constitution by the Austro-Hungarian Compromise of 1867, Jókai took an active part in politics. In 1899 he created a country-wide scandal by contracting a marriage with Bella Nagy, a young actress.
(source: wikipedia.org)
As Jókai states in the afterword of the novel, The Man with the Golden Touch was based on a true story he had heard from his grand-aunt as a child. The novel was one of the fineest later works of him. Az arany ember (A Man of Gold, translated into English, among others, under the title The Man with the Golden Touch) was unique and incomparable work. It gained a huge popularity during Jókai's lifetime and also afterwards. The novel is about the complicated process of several characters searching of happiness, while the story contrasts romanticism and realism.
The poster artwork was made in 1962, 90 years later than the novel was written. It is a painted piece with the main characters of the novel depicted. The creator of it was Antal Gunda, the great graphic artist who created the artwork. He applied the mixture of thin and thick black lines for the contours and additional details of the figures, and then completed the empty spots with big colour patches. The result is a strong-contrasted composition which can remind us of a detailled, handdrawn illustration of the old novel in colours.