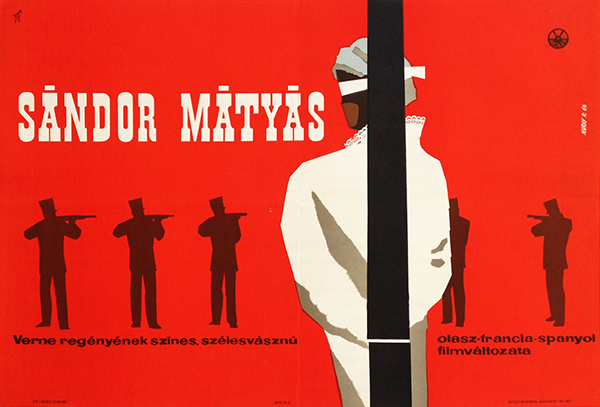 Mathias Sandorf
Hungarian title:
Sándor Mátyás
Size:
A2 1/2 Sheet (cca. 42 x 59 cm)
Condition:
Fine. Vertical and horizontal fold mark.
Price: $120
Description:
Landscape format. Mathias Sandorf is a film based on the novel of Jules Verne. The story is set in the 19th century, in Southern Europe. Mathias Sandor is a count who gets fed up with the tyranny and opression in his country and he initiates an uprising and becomes the head of the riots. Problems arise when his beautiful daughter falls in love with the captian of the enemy, the governor. At the same time Sandorf gets betrayed by his own financier and the rebels are revealed. Sandorf and his followers are sentenced to death. Sandorf and one of his followers manages to escape, and after running and hiding he starts the final uprising. Although accompanied by serious damages, the rebels take over in the whole country. The generous Count asks the governor to tell the news to his daughter and prepare for the wedding.
The designer of the poster was a painter, graphic designer and environmentalist and the majority of his works are defined by his love of nature. However, this design is not related to environment. It is a beautiful movie poster with strong contrasting colours and a composition what perfectly expresses the atmosphere of the movie it advertises.