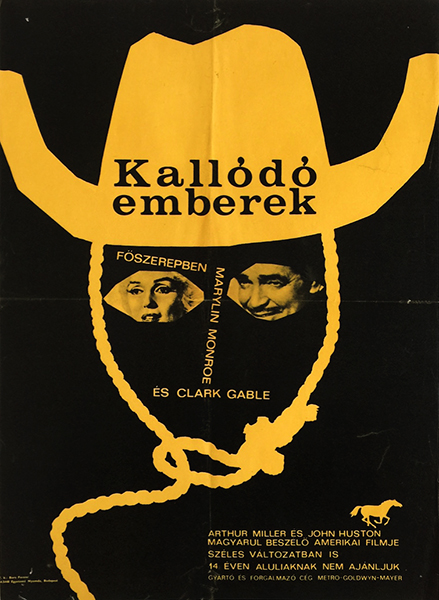 Misfits, The
Hungarian title:
Kallódó emberek
Size:
A2 1/2 Sheet (cca. 42 x 59 cm)
Condition:
Fine, light fold marks, light creasing, small tears.
Material:
Paper, intaglio.
Price: $400
Description:
The Misfits is a 1961 American drama film with a screenplay by Arthur Miller which was directed by John Huston. The picture stars Clark Gable, Marilyn Monroe, and Montgomery Clift, with a supporting cast including Thelma Ritter and Eli Wallach. The Misfits was the final film appearance for both Gable and Monroe, and the third-to-last for Clift. The plot centers on a recently-divorced woman (Monroe) and her time spent with a cowboy (Gable) and his friend (Clift) in the Western Nevada desert in the 1960s. The movie was not a commercial success at the time of its release but received positive critical comments for its script and performances. (source: wikipedia.org).
The poster was designed in the popular style of the 1960s.There are two photographs about the main actors (Monroe and Gable) which is incorporated in the main element of the composition: the image of a cowboy. The eyes are the photos, the head is a lasso with the must-have hat on the top. The nose, one eyebrow and the mustache is indicated by the name of the actors: Marilyn Monroe and Clark Gable. A very clever design.