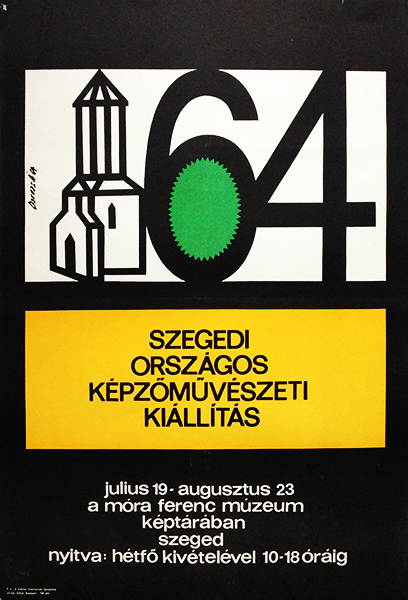 National Fine Arts Exhibition in Szeged
Hungarian title:
Szegedi Országos Képzőművészeti Kiállítás
Size:
A1 1 Sheet (cca. 59 x 84 cm)
Condition:
Fine, one tear on the top.
Material:
Paper, offset lithography.
Price: US$600
Description:
Poster for the National Fine Arts Exhibition held in the city of Szeged.
The design is very simple and geometric, created by one of the most important poster artists of the generation that started in the 1950s, Darvas was a pioneer who renewed poster art with his new techniques and styles. He liked using strong colours on his posters.
On this particular piece he makes the composition dynamic with adding bright yellow and green to the completely geometric design. Although many of his designs show elements of pop art or are painting like, he did create soem geometric pieces. Another example besides this piece is the one for the Sport Equipment and Camping Exhibition. On this poster he created three blocks: on the very top the year and the stylized image of a building. In the middle the title of the event is written with simple letters on a yellow background. At the bottom the time, place and opening hours of the exhibition is listed.