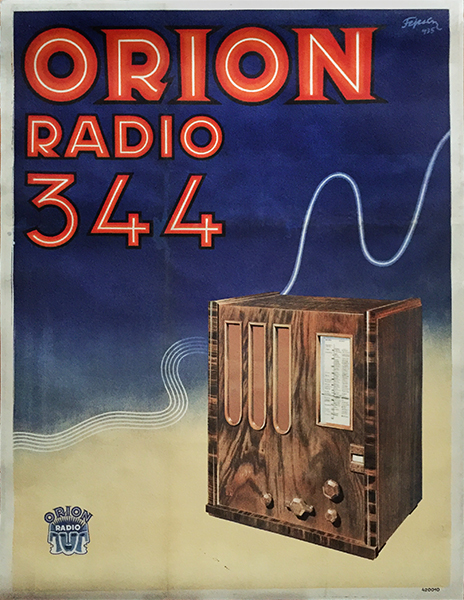 Orion Radio 344
Hungarian title:
Orion Rádió 344
Size:
Pre-war 2 Sheet (cca. 95 x 126 cm)
Condition:
Fine, restored paper loss and tears. Backed on Japanese paper.
Material:
Paper, lithography.
Price: $4000
Description:
Beautiful Art Deco poster by Gyula Fejes promoting Radio 344 by the Orion Company. The design uses an elegant typography for the trademark's and the product name. The contrast of blue and yellow colours in the background highlights the product, the wooden box radio.
The poster was created in the 1930s, the most successful period of the Orion Factory. The Orion logo, which is visible on the bottom left side of the poster, consists of three heads and it was designed by József Bottlik. The three heads represent the three directions of the sound spreading.
The Orion factory produced electronic devices, mostly lamps and radios. The ancestor of the company was founded in 1913 by an Austrian businessman, János Kremenczky and was originally called 'Hungarian Wolfram Lamp Factory'. Some years later several other smaller factories joined, and from 1924 the company changed its name to 'Orion Electronic Joint Stock Company'. The brand soon became popular, it was well-known and sought in foreign countries as well, from 1930. In 1934 the 90% of Orion radios were already being sold in abroad. In the 1940s Orion was responsible for the 25-30% of the world's radio export. In the 1960s Orion started producing the first color televisions in Hungary.