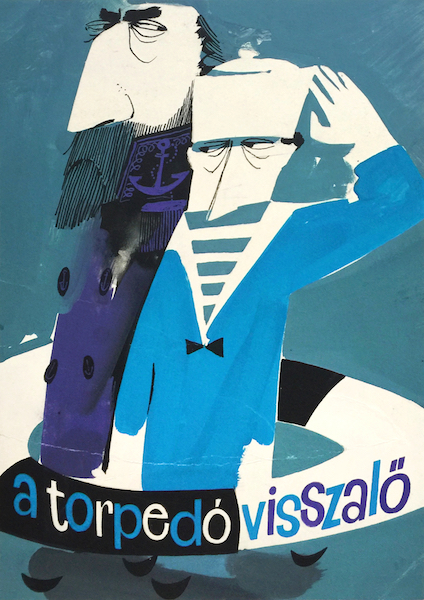 Watch Your Stern
Hungarian title:
A torpedó visszalő
Size:
Tram poster (cca. 17 x 24 cm)
Material:
Paint on cardboard.
Price: US$1000
Description:
Watch Your Stern is a 1961 vintage Hungarian movie poster artwork maquette designed by Antal Gunda.
Watch Your Stern is a 1960 British comedy film directed by Gerald Thomas and starring Kenneth Connor, Eric Barker and Leslie Phillips. The film was based on the play Something About a Sailor by Earle Couttie. The Royal Navy provided cooperation allowing the producers to film aboard Chatham Dockyard, HMS Jaguar and HMS Chaple.
Watch Your Stern shares its cast and production team with the Carry On films, but the film is not an official member of the Carry On series. (source: wikipedia.org)