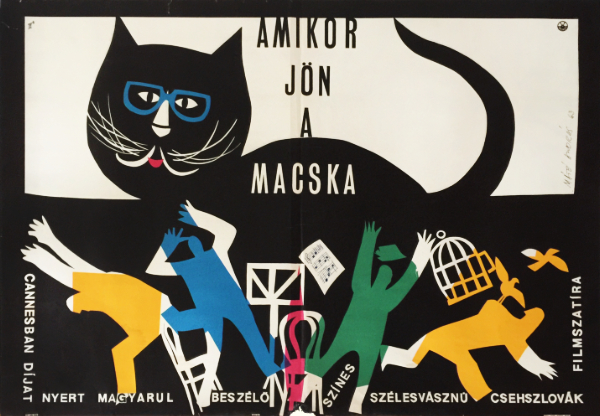 When the Cat Comes
Hungarian title:
Amikor jön a macska
Size:
A0 2 Sheet (cca. 84 x 119 cm)
Condition:
Fine, vertical fold mark, small tears and light creasing along borders, some paper loss at the center of the bottom border.
Material:
Paper, offset lithography.
Price: $2400
Description:
The Cassandra Cat (Czech: Až přijde kocour), also released under the titles When the Cat Comes, The Cat Who Wore Sunglasses, and/or That Cat) is a 1963 Czechoslovakian film directed by Vojtěch Jasný. It tells the story of a mysterious traveling circus that arrives in a village accompanied by a sunglass-wearing cat named Mokol.
Castellan Oliva (Jan Werich) watches the everyday life of his small sweet town from the gallery of a tower. From that height, he can afford to keep a tolerant view of the weaknesses and frailties of his fellow-citizen. Robert (Vlastimil Brodský), a young teacher, is preparing to marry his colleague Julie (Jirina Bohdalová). Robert invites Oliva to sit as a model in a drawing lesson. The old man tells the children about his life as a sailor and about his first encounter with Diana, the love of his life, and her magical tom-cat. All of a sudden, jolly music sounds from the square, heralding the arrival of a strange circus. To the surprise of both children and adults, there is a magician sitting on the roof of a red car who is almost indiscernible from Oliva, and a beautiful girl named Diana (Emília Vásáryová) with a tom-cat wearing sunglasses on her lap. At the close of that evening's performance by the magician, Diana takes the sunglasses off her tom-cat and people begin to change colour in front of his green eyes. The unfaithful turn yellow, the liars violet, the thieves and highwaymen grey and those who are in love turn red. (source: imdb.com)
The film won two major awards at the Cannes Film Festival in 1963, including the C.S.T. Prize and Special Jury Prize, Cannes. (source: wikipedia.org)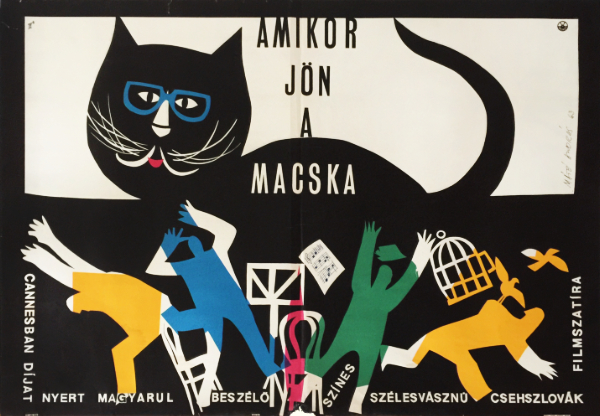 Andras Mate - When the Cat Comes film 1963 Hungarian movie poster