Tamássi Zoltán
1912 - 1997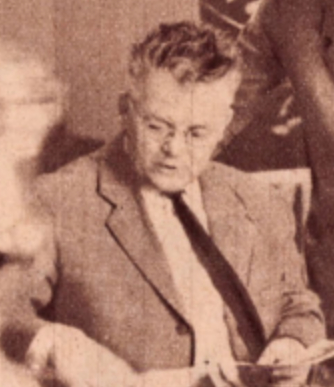 Zoltán Tamássi
Zoltán Tamássi was an important poster artist and graphic designer from the 1940s until the 1970s.
He studied under Ferenc Helbing at the Academy of Applied Arts, and graduated in 1934. Besides being an artist, he was also professional athlete. He played for Ferencváros, the most successful Hungarian football club as a striker. In 1933, the team won the national championship, and Tamássi made three appearances during the season. He was also known as a ski jumper and a race car driver. The love for sports was present in his family for generations.
In 1937, together with György Konecsni he designed the Hungarian Pavilion of the Paris World Exhibition. After 1945 he became known as a graphic designer thanks to his political posters designed between 1945 and 1949. Between 1970-1981 he was teaching graphic design at the University of Fine Arts, however, before 1947, he worked as a sports trainer as well.
Between 1945 and 1946 he worked at a State Bureau of Propaganda. In 1945 Tamássi was one of the leading graphic artists who managed to reform the visual language of the political poster in Hungary. He designed election campaign posters for opposite parties. Initially he was the propagandist of the Peasants' Party but later on he got commissioned by the the Social Democratic Party and the Hungarian Communist Party.
His works are defined by his keen sense for creating clear and monumental compositions. He used sculpture-like, massive shapes, usually setting an endless space as background. His characters often represent a particular social class: the worker, the peasant, the intelligentsia; or the enemy: the fascist or imperialist bourgeois. He preferred to use interesting or unusual angles, view from above and below in order to obtain a dramatic effect. Tamássi often applied well-known symbols, like the broken shackles. His posters cover important topics of the age: democracy, rebuilding, distribution of land, etc.
After the political turn in 1949, Tamássi remained a successful poster designer. He mostly designed travel, safety, propaganda and sport posters. His designs are very modern, clear compositions, presented by a very effective and powerful visual language. .
Available posters by this artist