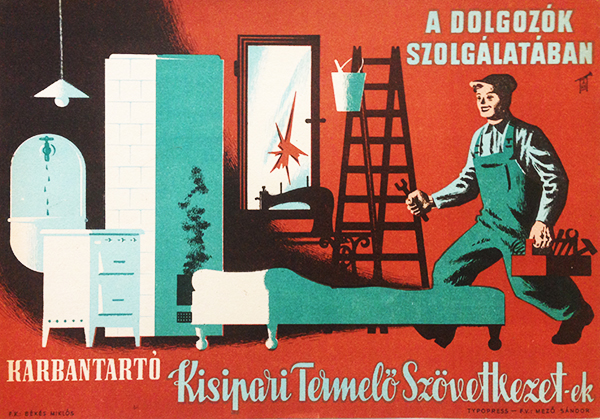 Small-scale Repairmen Cooperatives
Hungarian title:
Karbantartó Kisipari Termelőszövetkezetek
Size:
Double Tram poster (cca. 34 x 24 cm)
Condition:
Fine, a few very small tears along the border.
Material:
Paper, offset lithography.
Price: US$320
Description:
Socialist-realist tram poster from the 1950s the small-scale repairment cooperatives.
In Hungary when the Socialist government took over they immediately started to reorganize the economy. Annihilating individual production or any kind of individual work and creating cooperative which was obligatory to join to for everyone, was a part of this reorganization. There wer cooperatives for everything: farmer's, clothing, trading, etc. This particular poster introduces the cooperatives of the repairmen. According to the slogan in the top right corner, this cooperative was bor in the aid of the workers.
The design is typical of the Socialist-Realist manner. There is a happy and confident worker heading to solve the problem as soon as possible. He carries his tools in his strong hands. The other parts of the composition show different objects which can be in a household and which can go wrong. A bed with a broken leg, a leaking tap, a smoking tile stove, a broken mirror, a sewing machine a stove and a ceiling lamp. The ladder with the paint and brush in it implies that the reapirmen also did painting if they needed to.