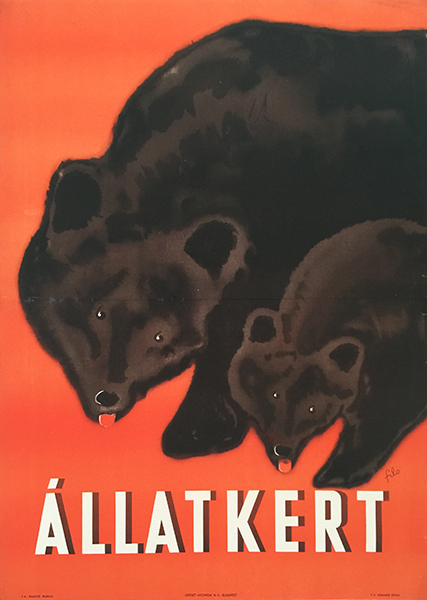 Budapest Zoo
Hungarian title:
Budapesti Állatkert
Size:
A0 2 Sheet (cca. 116 x 82 cm)
Condition:
Fine, restored.
Material:
Paper, offset lithography.
Price: US$8000
Description:
Poster for one of the most famous attractions of Budapest, the Zoo.
The Budapest Zoo and Botanical Garden is one of the oldest in the world. Its history started 150 years ago. It opened in 1866, August 9. Despite serious financial problems, the zoo did not stop developing until the Second World War when it was almost completely destroyed by the severe bombings. Unfortunately only 15 animals survived out of the more than 2000 specimen the Zoo was providing home to. However, it reopened not long after the siege of Budapest, on the 1st of May, 1945 with a few species and dilapidated buildings and it was rebuilt step by step. A major modernization took place in the 1950s at the time of this poster.
The advertisement was designed by Filo. Filo became acknowledged during the socialist era, although she refused to work according to the obligatory socialist realist style apparent in Hungarian poster design between 1950 and 1955.
The socialist realist posters depicted painting like, monumental figures, muscular, strong, heroic and happy. Most of them lacked real artistic quality, and most of the subjects were political or other propaganda attached to the communist government. However, there were numerous cultural posters on the streets as well and even though those reflected the attitude of the era, they enjoyed bigger freedom, thus most of those were different from the other posters of the time.
Filo here created a simple composition where she depicted two bears in front of a red background creating a strong contrast. The big bear and the bruin are built up of watercolour stains in different shades of brown what gives them solidity. The typography is simple, and the text saying 'Zoo' casts a shadow making giving it a three-dimensional look.
A simple, yet very decorative, delicate composition.