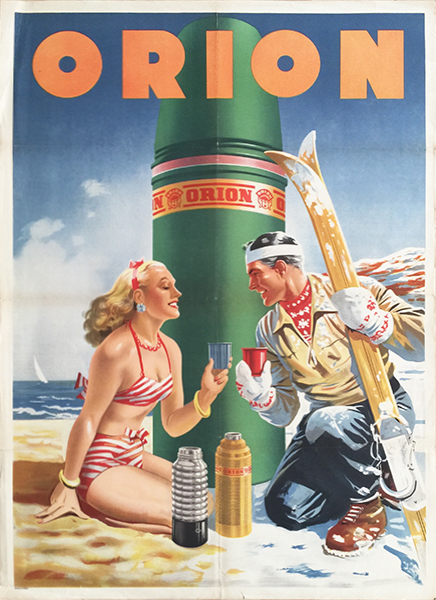 Orion thermos
Hungarian title:
Orion termosz
Size:
A1 1 Sheet (cca. 84 x 59 cm)
Condition:
Fine, fold marks, small tears along the border, some separation along the fold lines. Unbacked, unrestored.
Material:
Paper, offset lithography.
Price: US$8000
Description:
Inventive and highly decorative advertising poster for Orion thermos by Sebok. This is an export commercial poster that was created to advertise Hungarian products abroad, therefore there is no publisher or printer information on the poster. Although the artist utilizes a realistic style, the whole concept and composition gives the impression of grandeur.
During most of the 1950s, socialist realism was the compulsory artistic style in Hungarian poster art. There were important exceptions though, which included many cultural and some commercial posters. Export posters like this one were always printed with better printing inks, on higher quality paper. Although most export posters were designed in the most modern artistic styles - partly as a continuation of the outstanding and modern works that were created between 1945 and 1949, and partly in accordance with the international trends in contemporary poster art -, this composition is based on a realistic style. There are several ways though, where we can see a departure from the rigid rules of socialist realism.
Firstly, the typography, where the artist uses a bold, sans serif type and a bright orange colour, which evokes the Modernist and Art Deco tradition that was used for advertising these type of products by Tihamér Csemiczky and József Bottlik respectively.
We see a very pleasant scene, a rendezvous that could hardly happen without any transition: a rendezvous between a beautiful, stylish blonde girl in a red and white striped bikini, sitting on a sandy beach, and an causally elegant skier from the snowy mountains with his ski and winter clothing. They are both holding their cups, and each have their own thermos, and they prepare to toast with a huge smile on their faces. We see a giant version of the product - an enormous green thermos with the company name and logo on it - behind them, in between the two figures. This thermos is the barrier that divides the poster in two equal parts, a beach and a ski resort, and makes it possible for the two to meet in the middle.
This smart idea brings it to our attention that a thermos can be useful under all extreme circumstances, and it keep a beverage hot or cold as well. The colourful composition is much richer than a usual propaganda poster from this era, the characters are happier, more relaxed. The poster radiates a luxurious, elegant, yet relaxed vibe.