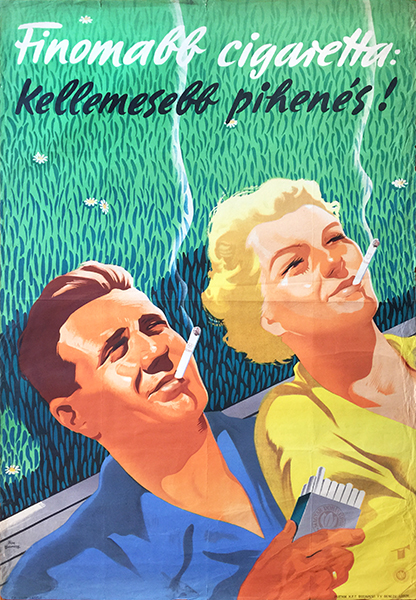 Tastier cigarettes: More pleasant rest!
Hungarian title:
Finomabb cigaretta: Kellemesebb pihenés!
Size:
A0 2 Sheet (cca. 116 x 82 cm)
Condition:
Fine, light fold marks & creasing.
Material:
Paper, offset lithography.
Price: US$8000
Description:
Original Hungarian vintage commercial poster from 1950 by Gyula Fejes and János Macskássy.
The poster promotes cigarettes in general. A man and a woman is smoking and relaxing on a bench in the park. The artists placed the characters in diagonal , while the text above them is horizontal. The contrast catches the attention of the passerby on many levels. There are not much detail shown regarding the environment the couple is sitting in, except the lawn in the background with some white flowers, however it is just enough information to understand the setting. Although the poster was created in 1950 when it was obligatory for artists to apply the socialist-realist style, this piece is more artistic and has a unique atmosphere, unlike most of the advertising art at the time.