Macskássy János
1910 - 1993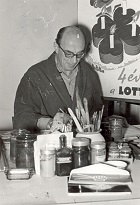 Macskássy, János
János Macskássy was a graphic designer and painter, who started his career in the 1930s.
He studied at the Academy of Fine Arts under the supervision Gyula Rudnay, a well known Hungarian painter.
He designed numerous posters, often collaborating with his brother, Gyula Macskássy, or other artists, for example Gyula Fejes. In the 1930s and 1940s, his poster designs were inspired by the popular, clear and compact modernist or constructivist poster style. Macskássy's compositions always had a certain looseness in them reifying humorous and light-hearted ideas.
He often worked for big companies (Tungsram for instance).
After the Second World War, he continued designing posters and the late 1940s was an important and fruitful period in both his and his brother's career. He achieved considerable success with the poster series for Diadal cigarette paper.
In the 1950s he designed many remarkable posters for the national lottery and for tobacco products, on which he used a cartoon-like, airy poster style. .
Available posters by this artist