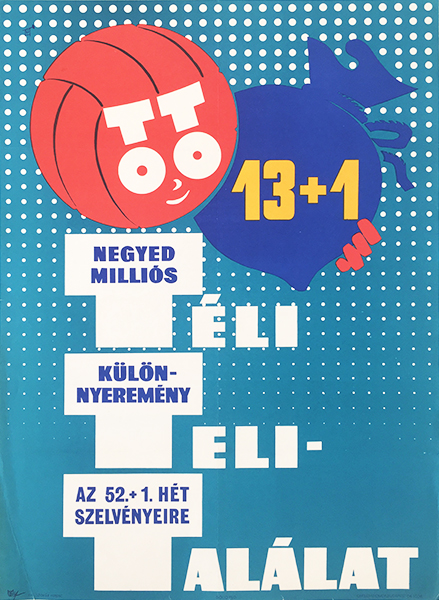 TOTO - Winter direct hit
Hungarian title:
TOTO - Téli teli találat
Size:
B2 (cca. 70 x 50 cm)
Condition:
Fine. Horizontal and vertical fold marks.
Material:
Paper, offset lithography.
Price: US$240
Description:
Simple but compact poster for the popular national football pool. He designed numerous Toto and Lottery posters and he created the famous lottery figure, the boy with the four leaf clover. Toto was the most common sports betting game in Hungary that has been existed since 1947 until today. The popular emblem of the pool is the red volleyball head with the "TOTO" letters. Soccer always has been the most popular sport in Hungary. The country has a respectable football history, having won three Olympic titles, finishing runners-up in the 1938 and 1954 FIFA World Cups, and third in the 1964 UEFA European Football Championship. Hungary revolutionized the sport in the 1950s, laying the tactical fundamentals of Total Football and dominating international football with the remarkable Golden Team which included legend Ferenc Puskás, top goalscorer of the 20th century. (source: wikipedia.org)
On this cheerful design, Macskássy depicted the ball, which is present on almost all Toto posters with TOTO written on it. Here the ball becomes the head of a man whose body is built ob by three 'T'-s which are the initials of the following words: Téli (Winter) Teli (Direct) Találat (Hit). The figure is holding a bag in his hand which probably contains his luck. 13+1 is written in it, the number of bets one has to make when playing Toto.