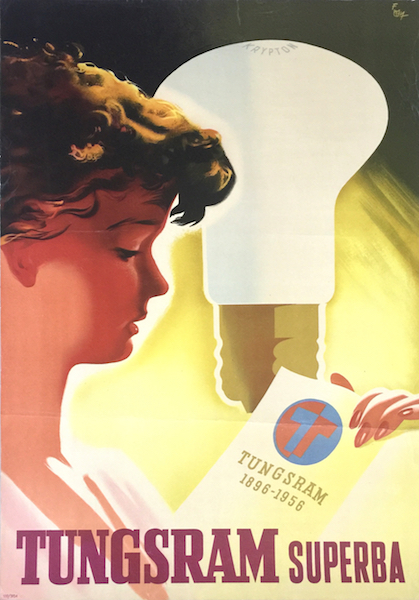 Tungsram Superba lightbulbs
Hungarian title:
Tungsram Superba izzók
Size:
A1 1 Sheet (cca. 84 x 59 cm)
Condition:
Fine, light fold marks and wear, small tears.
Material:
Paper, offset lithography.
Price: US$3200
Description:
Tungsram Superba lightbulbs is an original 1956 vintage Hungarian export advertising poster designed by Gyula Fejes and Janos Macskassy.
Tungsram is one of Hungary's largest, oldest, and internationally most prestigious firms, known for light bulbs and electronics. Established in Újpest (today part of Budapest, Hungary) in 1896, it initially produced telephones, wires and switchboards. The name "Tungsram" is a portmanteau of tungsten and wolfram (the two common names of the metal used for making light bulb filaments).
On 13 December 1904, Hungarian Sándor Just and Croatian Franjo Hanaman were granted Hungarian patent no. 34541 for the world's first tungsten filament bulb that lasted longer and produced brighter light than a carbon filament. The co-inventors licensed their patent to the company, which came to be named Tungsram after the eponymous tungsten incandescent bulbs, which are still called Tungsram bulbs in many European countries. In 1934, Tungsram incorporated a patent by Imre Bródy for bulbs filled with krypton gas, providing for longer bulb lifetime. During World War I mass production of radio tubes began and became the most profitable division of the company. British Tungsram Radio Works was a subsidiary of Hungarian Tungsram in pre-war days (source: wikipedia.org).