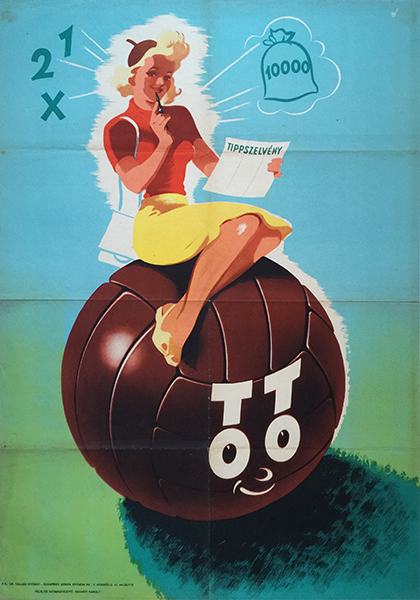 Sports betting
Hungarian title:
TOTO tippszelvény - 1 2 X
Size:
A1 1 Sheet (cca. 84 x 59 cm)
Condition:
Fine, restored, light fold marks.
Material:
Paper, offset lithography.
Price: US$2400
Description:
Sports betting is an original Hungarian vintage poster from 1949 by Janos Macskassy.
János Macskássy was a graphic designer and painter, active from the 1930s until the 1960s. He created numerous fantastic posters, mostly commercial ones. His early posters followed the traditions of the modernist-constructivist style in Hungarian poster art. In the 1940s his posters were also influenced by the Hungarian painting art of the 1930s and 1940s. They shown spontaneous lines and opened forms, while some of his other works used intense colours, a concentrated cut-out, and an idealized photo-like character.
The one-time lots, draws and raffles were replaced in Hungary by the football pool in 1947, followed by the lottery in 1957. Gambling was nationalized after 1949, at the beginning of the socialist era.. The National Savings Bank was established in 1949 and it was responsible for most of the financial matters of the state. Soon gambling was also added to them, with a good reason: it provided a source of extra income to the sinking planned and centralised economic system of the country. Hence a group of fine graphical designers was employed to create catchy advertisements for the games.
This poster is a fine example of them. It depicts a woman sitting on a soccer ball filling out a betting ticket having the prize in her mind. The lady is fashionably dressed according to the trends of the time. She wears bright colours, a mid-long yellow skirt, a red turtleneck top and a cap of matching colour. The ball she is sitting on is enlarged and impersonated: it has eyes, a nose and mouth. The eyes are outlined by two 'O' letters of 'TOTO' , football pool in Hungarian.
This poster perfectly reveals the imaginative attitude of Macskássy. The physiognomic design of the funny football-head was a brilliant idea of him. No wonder why it was used in several football pool posters and become a typical motif, quasi mascot of them.