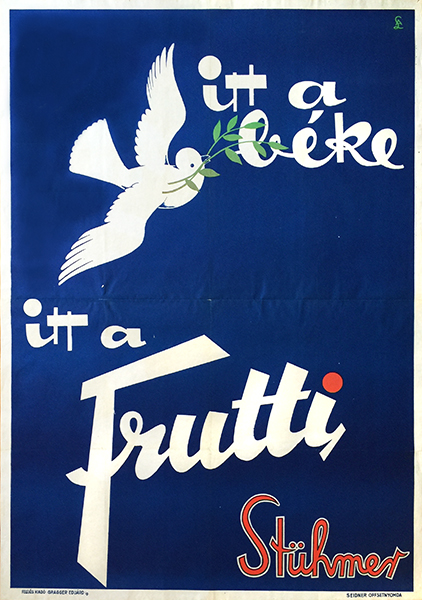 Description:
Original Hungarian vintage commercial poster from 1947 by Antal Lonkay.
Antal Lonkay was often commissioned by Stühmer sweets factory. The factory was established in 1868 which first produced candies but within a few decades they begun the mass production of chocolates. Stühmer factory was a pioneer in chocolate mass production in Hungary and by 1941 Stühmer was Europe's most modern chocolate factory. They were very keen on presentation on every field related to the product, hence the retails were carefully designed, as well as the packaging and the advertising art. This attention to detail and the high quaility qualified the products for export as well. The company was nationalized in 1948, and merged with the National sweets factory. This poster was made in the last year before the company was nationalized.
The text on the poster says: 'Peace is here, Frutti is here'. Frutti was a popular product by Stühmer. The artist emphasized peace not only verbally but also visually, by depicting a white dove with an olive branch.
Antal Lonkay (1904 - 1963) was a Hungarian graphic designer. He was regularly working on the advertisements of the Stühmer company.