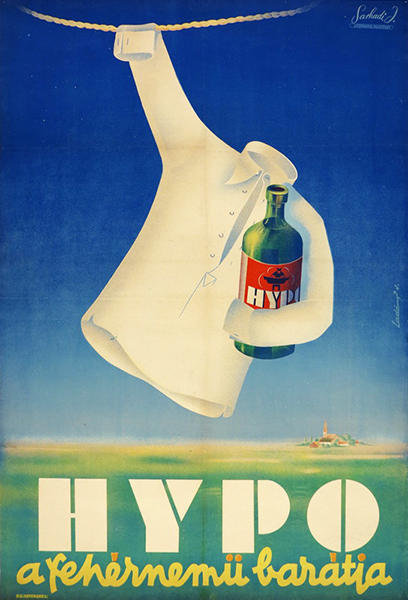 Description:
TThis piece is from a very important period of Hungarian poster art. After Hungary was occupied by the Soviets at the end of World War II in 1945. Despite the socialist political system wasn't established until 1949, after the war, the talented artists who were forced to leave the country in the aftermath of the Hungarian Soviet Republic of in 1919 (Tanácsköztársaság) could finally return. Most of these talents were designing prolitical propaganda as in this politically intense period, parties found communication through posters very effective. However, there are a few commercial posters known from that period as well which are rare and generally represent high artisitic qualities.
Hypo has been used for domestic purposes since the 1940s.
This composition presents great style and substance. The idea of the white shirt embracing the liquid bleach with one sleeve while grabbing the drying-line with the other is very witty. The scenery, the blue sky, the landscape creates an atmosphere associated with cleanliness and fresh air. The soft colour transitions of the background creates a delicate manner, yet the typography used for the product's name, Hypo is strict and minimalistic. The strong white of the shirt and the typography pops out from the image what highlights the purpose and the efficiency of the advertised product.