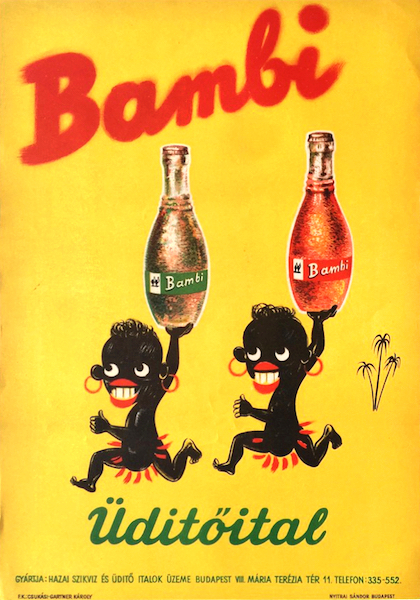 Description:
Bambi soft drink is an original vintage Hungarian poster from 1947.
Bambi was a Hungarian soft drink sold in small, 2,5 dl bottles, the first such thing that appeared in the era of socialism in the country. In 1947, the Hazai Szikvízüzem had started to bottling the product in Mihály Horváth Square in Budapest.
It was the only soda on the Hungarian market. A carbonated beverage made from synthetic ingredients with artificial orange flavor and color. Bambi had a sugar content of 12%, which is well above Coca-Cola and Pepsi.
This 1947 vintage Hungarian advertising poster shows two stereotypical small indigenous black men each running with a huge bottle of Bambi in one hand, with a few palm trees in the background. They are both wearing grass skirts and hoop earrings and have big lips. The artist's aim supposedly was to perceive the exotic nature of the drink.