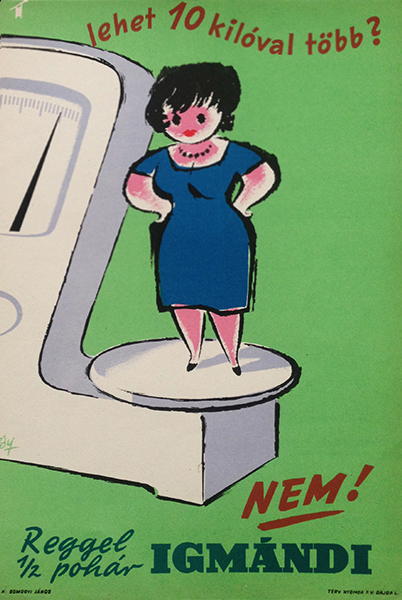 Half cup of Igmándi every morning
Hungarian title:
Reggel fél pohár Igmándi
Size:
Tram poster (cca. 24 x 17 cm)
Material:
Paper, offset lithography.
Price: US$280
Description:
Commercial poster for a famous mineral water brand called "Igmándi". Nagyigmánd was known for its healthy mineral water since the 19th century. First Antal Schmidthauer, a Hungarian chemist discovered it in 1862, and one year later he started bottling it. The medicinal water first gained a national, and later an international fame, due to its high mineral content.
In Hungary there are more than a hundred springs of medicinal water. Mineral waters come from underground waters, from natural or artificial wells and they are inherently free of contamination. Their composition and temperature is almost constant. Mineral waters should not be confused with drinking waters with added minerals, because in case of the latter category, mineral content is created artificially. Medicinal waters can be used externally and internally, too. For instance, as drinking cures, they are employed mainly for treating gastro-intestinal disorders, esophageal diseases, biliary diseases, chronic bowel diseases. Igmándi water can be used for gastric and duodenal symptoms, because of its magnesium sulfate content.
(source: www.balneoportal.hu)
Igmándi medicinal water was bottled and used for more than 125 years, until 1983. However, all the wells were closed in 1989 and the bottling was also stopped.
The advertisement targeted women and tried to convince them to consume the medicinal water. Macskassy's typical cartoon-like figures and humorous style is apparent on this poster as well: it shows a roundish woman who is checking her weight on a scale and asking ' Can I be heavier with 10 kilograms?'. The answer is stated with capital letters at the bottom part of the poster: 'NO'. It suggests to have half cup of Igmándi every morning against obesity.