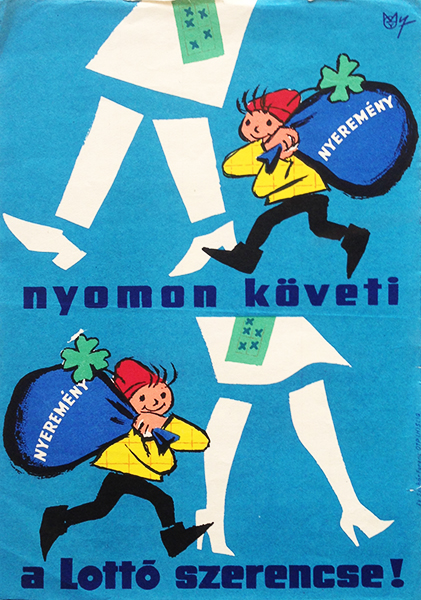 Lottery luck..It follows you!
Hungarian title:
Nyomon követi a Lottó szerencse!
Size:
Tram poster (cca. 24 x 17 cm)
Condition:
Fine, small tears and creasing along the border.
Material:
Paper, offset lithography.
Price: US$240
Description:
Modern lottery was introduced in Hungary in 1957, so it was relatively new at the time. Football pool has been popular since its modern inception, 1947. During the late 1950s and 1960s, lottery has been frequently advertised in Hungary. These lottery posters almost always had a humorous tone, they mostly are based on lovely, funny characters. In the 1960s it was very common to have a certain character to promote a specific brand. In the case of lottery, this character was the boy with the four-leaf clover whose name was Lotto Ottó. János Macskássy, the designer of this poster used this character very often. János Macskássy designed a great number of posters for the lottery: Do not miss it!, Lottery, Lottery 2.
This one has the young boy with the four-leaf clover carrying a big sack. His shirt has the pattern of a lottery ticket. He is following people, on the top a man and at the bottom a woman. This is the visual demonstration of the slogan: Lotto luck...it follows you!