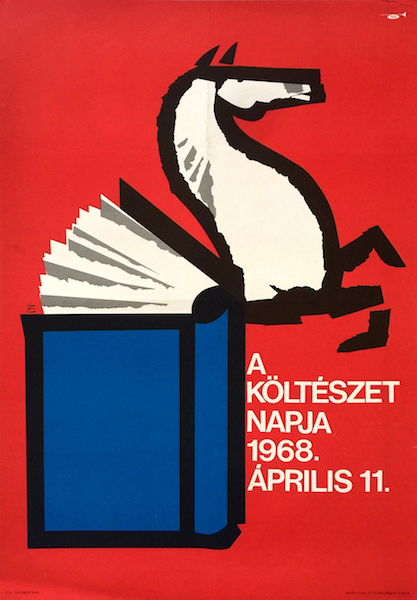 Poetry Day - 11 April 1968
Hungarian title:
A költészet napja 1968. április 11.
Size:
A1 1 Sheet (cca. 84 x 59 cm)
Condition:
Fine, light fold marks and wear.
Material:
Paper, offset lithography.
Price: US$400
Description:
Poetry Day is a 1968 vintage Hungarian poster designed by Crescencia Zelenak.
The poster promotes the National Poetry Day in Hungary which takes place on April 11th every year. This day is the birthday of one of the most known Hungarian poets in the 20th century, Attila József.
The poster displays a Pegasus, the stallion with wings, which is an Ancient-Greek mythological figure which used to provide the poets with inspiration thus it became the symbol of poetry. The author of the poster combined the figure of the Pegasus and the image of the book, thus making the pages of the book an organic part of the body of the pegasus. The red and white colours contribute to the vivid nature of the composition. A very decorative design.