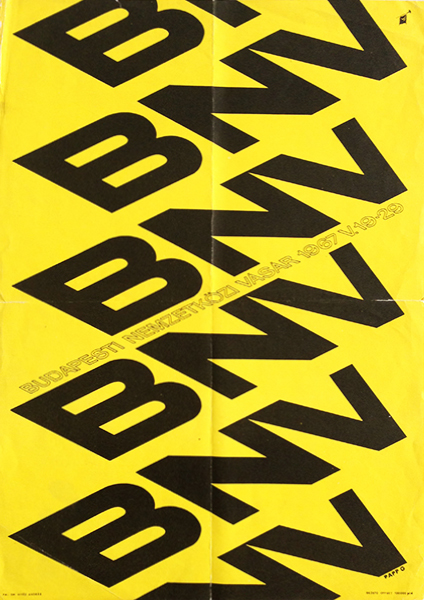 Budapest International Fair 1967
Hungarian title:
Budapest Nemzetközi Vásár - BNV - '67
Size:
A3 (cca. 42 x 30 cm)
Condition:
Very good, vertical and horizontal fold marks, tears along the fold marks, writing on the back with pencil
Material:
Paper, offset lithography.
Price: US$240
Description:
Poster of the Budapest International Fair by Gábor Papp. Size: 40.5 x 28.5 cm
The ancestor of the Budapest International Fair was called March Fair and the first one was held in 1906. The goal of it was to motivate people to buy local products. The fair became international in 1918 and the name was changed to Eastern Fair. The number of foreign sellers and buyers was constantly growing thanks to the establishment of the international fair card with which the taxes and travel costs could be reduced. For the locals, there were cheap fair trains available to help them getting to Budapest. In 1935 the Confederation of the Hungarian Industrialists joined the process of organizing the fair. The Budapest International Fair (Budapesti Nemzetközi Vásár, BNV) is still existing, however , not in its classic form.Today they have more than one specialized fairs a year.
Gábor Papp was the official designer of the Budapest International Fair's posters. Here are some of his other BNV posters: Budapest International Fair '66, Foire Internationale de Budapest 1968, He used the abbreviation 'BNV' as a typographic element and used the contrast of the vivid yellow and black to achieve a strong impression. Papp was famous for creating mostly typographical designs. He was one of the most important graphic designers of his time, the leader of the Papp-group to which the most important graphic artists of the 1960s and 70s belonged. Papp's style is based on constructivism, he designed geometric and clear typographical posters and his compositions were defined by the harmonic proportions of geometric flat forms. Papp abandoned all characters, unnecessary details and objects, drawing inspiration from minimalism, hard-edge op art, and the geometric interior design of the time. This poster is a perfect example of the unique style of Papp.