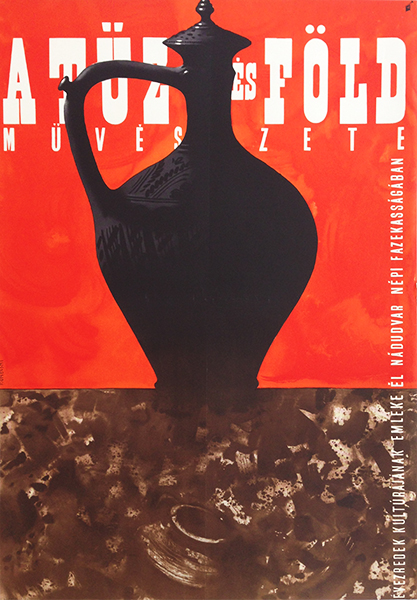 The Art of Fire and Earth - Nadudvar Folk Pottery exhibition
Hungarian title:
A tűz és föld művészete - Nádudvar Népi Kerámia kiállítás
Size:
A1 1 Sheet (cca. 84 x 59 cm)
Condition:
Fine, light fold marks and wear.
Material:
Paper, offset lithography.
Price: US$480
Description:
Poster to promote an exhibition about the traditional pottery of Nádudvar. The characteristic of the pottery of Nádudvar (a village in Hungary) is that at Nádudvar the potters mostly make jugs or bigger vessels for water and they use a special burning technique what makes the result black: the soot in the furnace colours the clay. Before burning it, the potter creates makes some patterns with a stone. The patterns become shiny after burning while the other parts remain matte.
The poster by the great master of poster art, György Konecsni, manages to capture the beauty of pottery. The title of the exhibiton alludes to the essence of pottery: clay is the part of earth but once it is burnt by fire it becomes art. The orange part of the background represents fire and the brown bottom represents soil that also hides a pot made of clay. The image of the black jug bears the characteristics of the pottery of Nádudvar.