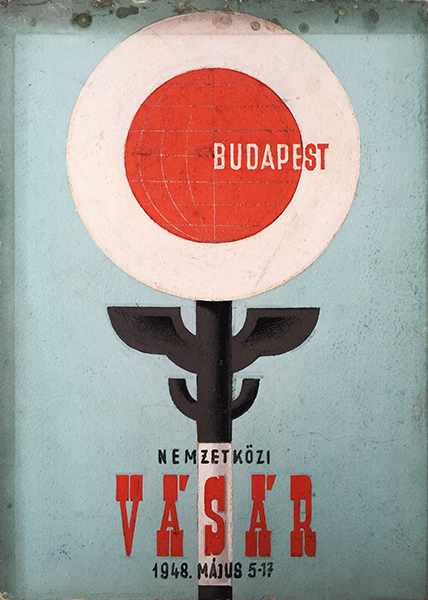 Budapest International Fair 1948
Hungarian title:
Budapesti Nemzetközi Vásár, BNV. 1948 május 5-17
Size:
Tram poster (cca. 17 x 24 cm)
Material:
Paint on cardboard.
Price: US$1200
Description:
Original poster maquette for the semi-centenary event of the Budapest International Fair in 1948. The first fair was organized in 1896, when the Millennium of Hungary was celebrated. The event was called the Millennial National Exhibition, taken place in the City Park, next to the Heroes Square. It was opened by Franz Josef I, and mustered up several spectacular momentums, such as the first national newsreel or several airships. It was followed by several smaller exhibitions and fairs, where the representatives of the national commerce and industry could be displayed. In 1925 the organizers stepped on the international level and changed to the Budapest International Fair with a new symbol, Mercur/Hermes with wings. Over the years the event gained a huge popularity until the 1950s. Then after a break caused by political circumstances, it continued to function again.
(source: http://bnv.hu/latogatoi-informacio-tortenet)
Posters of the Budapest International Fairs were important pieces to design. Designers created examples of the so-called collective commercial as they had to represent the whole industry, not only one brand. This poster artwork was created by Mátyás Gaál. Gaál was an important Hungarian poster artist and graphic designer, active between the late 1930s and the 1970s. He won the first prize of the Olympic competition in 1947, so one year later he designed the famous poster for the London Olympics. It also happened in 1948 that he created the poster of the Budapest International Fair, which was made after the original maquette visible here. In contrast with several other designers, he didn't employ the human figure of Mercur as he is flying or running with a trumpet or hammer. Instead, Gaál painted the planet itself in front of the Sun in a symmetrical geometric composition, with wings on a black and white metal tube-like motif below. The whole composition has a shape that it also can remind of a flower or a bright light. The typography completes the modern design.
This work is not only an emblematic design of his career, but it was also created during the distinctive poster art of the short lived democracy in Hungary between 1945 and 1949. The democratic period brought an artistic freedom and many prominent artists created fine, modernist works. This poster maquette was typical of the period with its clear composition, compact motifs and strong expressiveness.