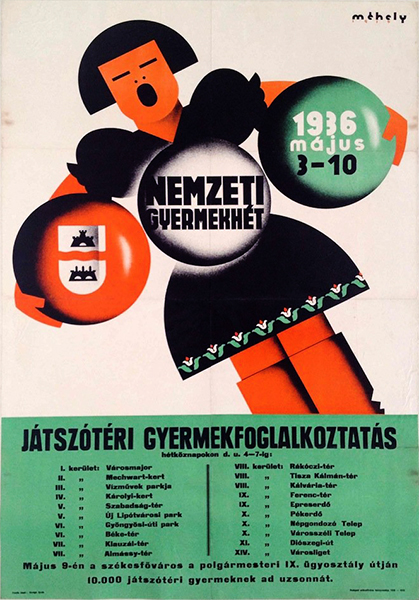 National Children's Week
Hungarian title:
Nemzeti Gyermekhét 1936
Size:
Pre-war 1 Sheet (cca. 63 x 95 cm)
Condition:
Fine, restored, fold marks, stains, backed on linen.
Material:
Paper, stone lithography.
Price: US$4000
Description:
National Children's Week is a Modernist poster from 1936, designed by Ivan Mehely.
Ivan Mehely was an extremely versatile graphic designer. His first posters were published in the mid 1930s. His style was a unique blend of the clear Modernist and Art Deco poster style of the 1920s and 1930s. He frequently designed posters for theaters, commercial products, and a poster series for the National Children's Week. This poster was one part of the poster series, created for the 1936 National Children's Week which was held in Budapest, from the 3rd until the 10th of May.
The design centers around a child figure holding three balls on which the sign, the title and the date of the occassion can be seen. The typographic design is a clever idea, which is typical of the artist.
The child is captured in front of a white background, wearing a traditional folk costume and boots, singing out loud. The shape of the dress and the pattern at the bottom of it refers to Hungarian nationality. The colours of the balls are the national colours: red, white and green. This is how the artist cleverly incorporated childhood and nationality in one design.
The simple shapes and plain forms of the design are characteristics of the modernist poster style which was one of the most important trends in the interwar period. The use of colour spray was a new invention in modernist posters in the 1930s, but soon it became typical. The text can be seen in a green panel beneath, it informed audience about the location of the event.
The whole composition is a mature and concentrated design.