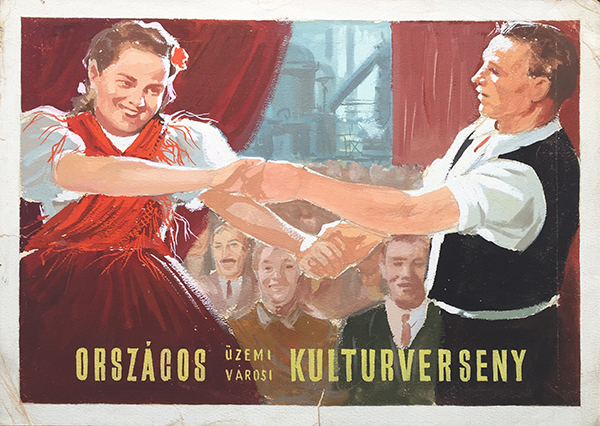 Description:
Original vintage Hungarian poster maquette for an event in 1950 or 1951.
It was made in socialist realist manner obligatory between 1949 ang 1955. In that era the hands of the artists were tied. They were forced to make realistic compositions centered around workers or peasants who are smiling and always happy. The figures on these posters are strong, honest and satisfied with the new system. The posters of this period are interesting historical documents and in many cases great pieces of art.
This piece is a maquette for the advertisement of a cultural event. The text does not reveal other than the name of the event, however, a contemporary article describes the spirit in what these events were held: "Our culture contest shall improve our poeple's will to defend the country and strengthen the hate towards the enemy. The contest aims to develop the worker's morals and the political unity, the loyality and love to the Worker's Party and the Soviet Union, the love towards the peacful peoples in the world. The competition is to inspire the factory workers, women workers, young workers building socialism together and fulfilling the 5-year-plan...". This quote in relation with a cultural contest paired with the style of the event's poster perfectly captures the early socialist world's essence in Hungary.