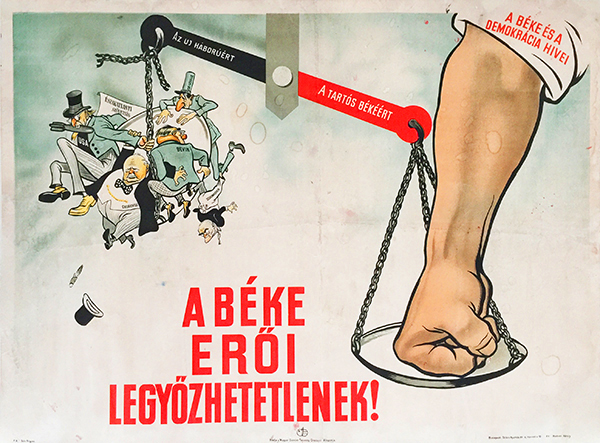 The Forces of Peace cannot be defeated!
Hungarian title:
A béke erői legyőzhetetlenek!
Size:
A1 1 Sheet (cca. 84 x 59 cm)
Condition:
Fine. Restored paper loss, stains, tears, pencil marks and fold marks, backed on Japanese paper.
Material:
Paper, offset lithography.
Price: US$1600
Description:
The Forces of Peace cannot be defeated! is a 1950 vintage Soviet Russian political propaganda poster with Hungarian text designed by Boris Yefimov.
In one pan of the balance appear those, who are "For the new war". They are named: De Gaulle, Churchill, Bevin, Schumacher, the U.S. and the North Atlantic Alliance. On the other side, the large fist is named as "Advocats of the peace and democracy".