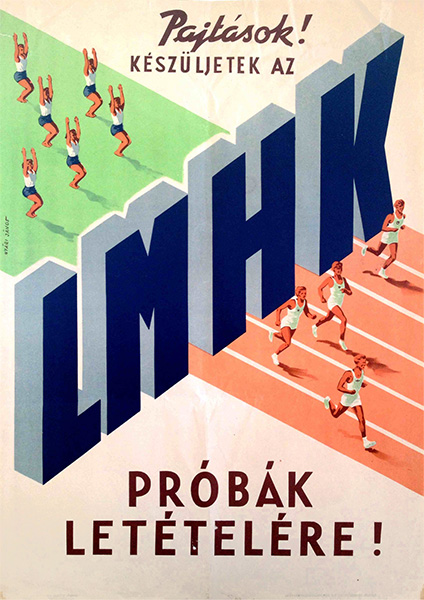 Prepare for the sport tests of the LMHK!
Hungarian title:
Pajtások! Készüljetek az LMHK próbák letételére!
Size:
B2 (cca. 70 x 50 cm)
Condition:
Fine, light fold marks and wear.
Material:
Paper, offset lithography.
Price: US$1600
Description:
Socialist realist sport poster designed by János Nyári.
LMHK was a national organization, its name is an abbreviation of Légy Munkára, Harcra Kész what means: Be prepared for work and war. LMHK was a Socialist association and it was realized as the part of the education politics. It was established to give education and prepare school children for the defence of the homeland (which was a constant goal in the Cold War period), as a sport movement organised by the sport clubs of the schools and the city. It was based on the experiences of the physical education system for the protection of the Soviet Union. The MHK - the ancestor of LMHK - (Munkára, harcra kész) Ready for work and war, was founded in 1949 and two years later the celebrations of the 1st of May (Labour's Day) was added to the events. In 1952 the students of the 7th and 8th grade became involved and the name was changed to LMHK.
The designer of the poster, János Nyári mostly designed propaganda posters. This piece bears the typical socialist realist characteristics of the 1950s, yet it is very decorative. The colours are harmonious and the composition is clear, dynamic. The logo of LMHK is in the very middle of the picture and it dominates the whole composition. It is resembles of something with a heavy weight what was dropped right in the middle of the airy and light image. The logo has stress, it is heavy while the figures and the pitch is light, especially compared to the logo. This contrast and the intersecting diagonals are what make the poster so decorative.