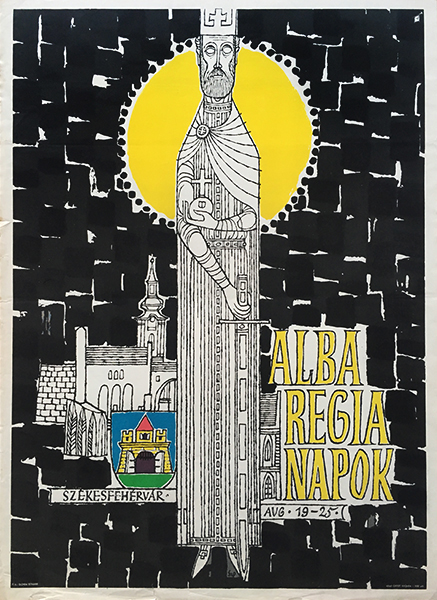 Alba Regia days
Hungarian title:
Alba Regia napok
Size:
A1 1 Sheet (cca. 84 x 59 cm)
Condition:
Fine, creases along the border.
Material:
Paper, offset lithography.
Price: US$400
Description:
Alba Regia was a festival held in Székesfehérvár, a town in Hungary what's called Alba Regia in Latin, hence the event's name. Székesfehérvár means the 'White Castle of the Royal Throne' and it refers to the important role the city fulfilled in the first centuries of Hungary as a kingdom. As it was required according to the Doctrine of the Holy Crown, the first kings of Hungary were crowned and buried here. The very first king of Hungary, King St. Stephen's portray appears on the center line of the poster. He is holding the globus cruciger as in every iconography of him.
The cross represents Christ's dominion over the orb of the world, literally held in the hand of an earthly ruler (or sometimes it is held by an angel). In the iconography of Western art, when Christ himself holds the globe, he is called Salvator Mundi, the Saviour of the World. (source:wikipedia.org)
In relation with Székesfehérvár the portrayal of the king holding the globus cruciger has a symbolic role referring to the town's history, when it was the Kingdom of Hungary's capital. Alba Regia was the very first real city in Hungary with individual, self-governing status. The globus cruciger is the symbol of its sovereignity what was assigned to the city by King St. Stephen
Alba Regia days was a cultural festival held in the castle of Székesfehérvár. The drawn poster contains visual elements strongly related to Székesfehérvár: King St. Stephen holding the globus cruciger, the coat of arms of the town and the castle. These images are simple drawings, the only colourful parts are the text, the coat of arms, and the yellow sun behind the king. The background consists of definite, bold, black brush strokes that make the white elements drawn with thin lines pop out.