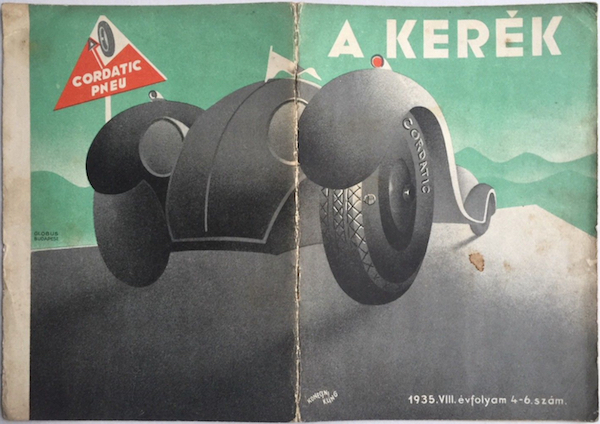 The Tire - Cordatic Revue 1935. VIII. 4-6.
Hungarian title:
A kerék magazin - Cordatic
Size:
Magazine (cca. 24 x 17 cm)
Condition:
Very good, staining on the cover, wear along the borders and the spine.
Material:
Paper, stone lithography.
Price: US$600
Description:
1935. Year 8. No. 4-6. 36 p (wrappers included). The illustrated wrappers were printed by Globus in Budapest.

Size: cca. 17 x 24 cm when closed, 34 x 24 cm when opened.

The Tire was a Hungarian car magazine, that was published by the automobile tire manufacturer company, Cordatic. The Art Deco front and back cover was designed by Gyorgy Konecsni and Gyorgy Kling.

The contents include articles about cars, driving, automotive equipment, etc.